Yunivarsitii Waldiyaatti Barataan Reebicha Irra Ga'een Miidhame Du'e Jedhama
FINFINNEE — (voaafaanoromoo)—
Barataan YuunIvarsiitii Waldiyaa tokko reebicha egdotaa mooraa Yuunvarsiitichaatiin irra gaheen miidhanee eega dhukkubsacha ture booda du'uu maatii fi hiriyaan isaa dubbatan.
Matiin barataa kana fi hiriyaan isaa Raadiyoo Sagaalee Ameerikaaf yadaa kennan akkamiin akka inni du'e bal'inaan ibsanii jiran.
Gabaasaa guutuu caqasaa.

---
Oromia Physicians Association (OPA) requested an independent forensic pathology investigation on the death of Abdi Wako, a 3rd year student at at Woldia University who was killed by unspecified agents.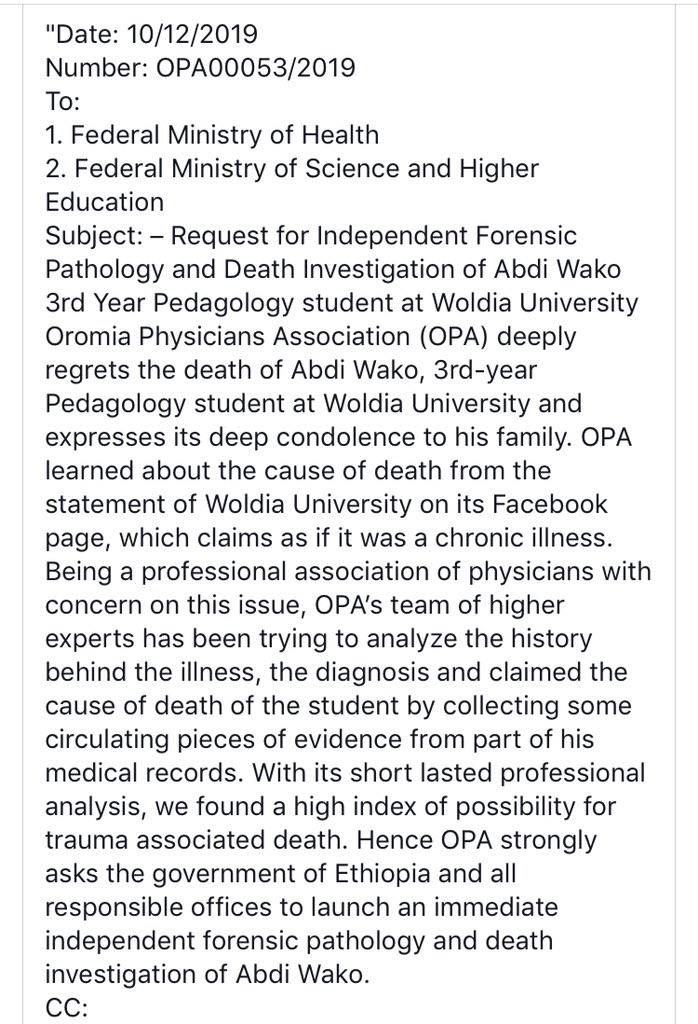 Protest at Nobel peace center in Oslo Norway. They don't know how to spell democracy or know the meaning of it. #Ethiopia
---
Amaara caalaa Amaara of godhuuf tokko jedhee Amaarinyaa isaa seenaa galmee Nobelii addunyaa keessatti galmeessifateera. Waan kun mata duree oduu guddaa tahee jira. Tarii guyyaa boruu Afaan Oromootiin waa xiqqoo dubbatee akka waan Oromoof waan addaa godhetti akka odeeffamuuf barbaada taha. Jabbiloota 700n hiriirsifatee akka saree duchiisaa oolu yoo tahe malee Oromoon kanaan burjaaja'uuf hin jiru. Sanuu yoo godhe.
---