One China issues diplomatic protest against Donald Trump for phone call to Taiwan president
The President-elect took a 10 minute phone call with Tsai Ing-wen
President-elect Donald Trump has spoken directly with Taiwan President Tsai Ing-wen – breaking with nearly four decades of US policy – in a move brought a swift protest of China amid fears relations with Beijing could be damaged.
The 10-minute telephone call with Taiwan's leadership was the first by a US president-elect or president since President Jimmy Carter switched diplomatic recognition from Taiwan to China in 1979, acknowledging Taiwan as part of "one China".
China's Foreign Ministry said it had lodged "stern representations" with what it called the "relevant US side", urging the careful handling of the Taiwan issue to avoid any unnecessary disturbances in the relationship of the two superpowers.
"The one China principle is the political basis of the China-US relationship," it said.
The US first adopted the 'One China' policy in 1972 following meetings between then President Richard Nixon and Chairman Mao Tse-tung. The agreement was finally solidified by Jimmy Carter. Under that policy, the US recognises Beijing as representing China, but retains unofficial ties with Taiwan. China considers Taiwan a wayward province and relations between the two sides have worsened since Ms Tsai, who heads the pro-independence Democratic Progressive Party, was elected president in January.
Speaking hours after the call, China's Foreign Minister Wang Yi apparently blamed Taiwan for the exchange.
"This is just the Taiwan side engaging in a petty action, and cannot change the 'one China' structure already formed by the international community," Mr Wang said at an academic forum in Beijing, state media reported.
"I believe that it won't change the longstanding 'one China' policy of the United States government."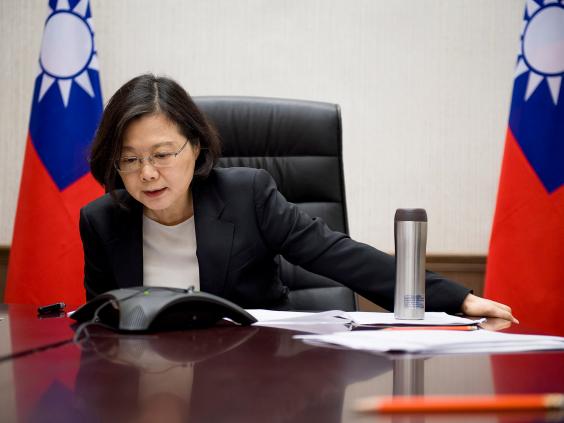 Taiwan's President Tsai Ing-wen speaks on the phone with US President-elect Donald Trump at her office in Taipei, Taiwan (Reuters)
On Saturday, Taiwan's policy making body on China said Beijing must look at the call "calmly".
"We call on China to face the new situation in the Asia-Pacific region and work with us towards developing a benign cross-strait relationship," the Mainland Affairs Council said in a statement, referring to the stretch of water between the two sides.
The White House was adamant there was "no change" to the longstanding "one China" policy.
"We remain firmly committed to our 'one China' policy," said Ned Price, a national security spokesman for President Barack Obama. "Our fundamental interest is in peaceful and stable cross-Strait relations."
Mr Trump took to Twitter and said: "The President of Taiwan CALLED ME today to wish me congratulations on winning the Presidency. Thank you!"
READ MORE